The Essential Taste of the Finger Lakes
---
Let our friendly and knowledgeable stewards teach you about our vines and vineyards while you enjoy award-winning wines and breathtaking views of Seneca Lake.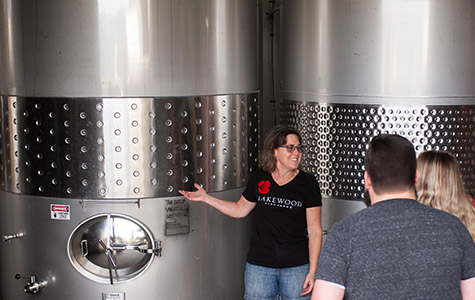 Guided Tour & Tasting
This intimate, guided visit gives an inside look at our winemaking process—from the vineyards and how we care for them to where and how the grapes become wine. Complete the experience with a flight of wines specially selected by our stewards.
Perfect for:
Couples, families and smaller groups of 6 or fewer tasters
Cost:
$20 per person, $15 for Rose Guild members (adults 21+)
$3 refundable with 2 bottle purchase
Available:
Saturday: 10:00am & 11:00am
Sunday: 1:00pm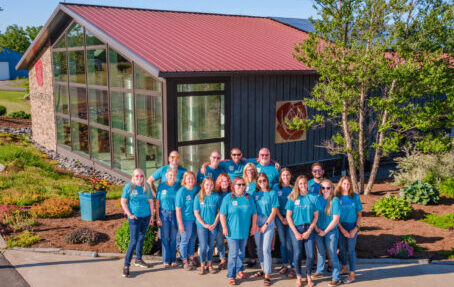 Signature Tasting
Choose from our featured flights of dry and semi-dry, or semi-sweet and sweet. Enjoy your wines in one of our beautiful tasting rooms as our stewards share stories & information about our vineyards, our grapes, and our wine-making process.
Perfect for:
Couples, families and groups of up to 12 tasters
Cost:
Up to 6 people: $5 per person (adults 21+)
7 – 12 people: $10 per person (adults 21+)
$3 refundable with 2 bottle purchase
Available:
Monday – Saturday: 10:00am – 5:00pm
Sunday: 12:00pm – 5:00pm
Reservations are required for groups of 7-12.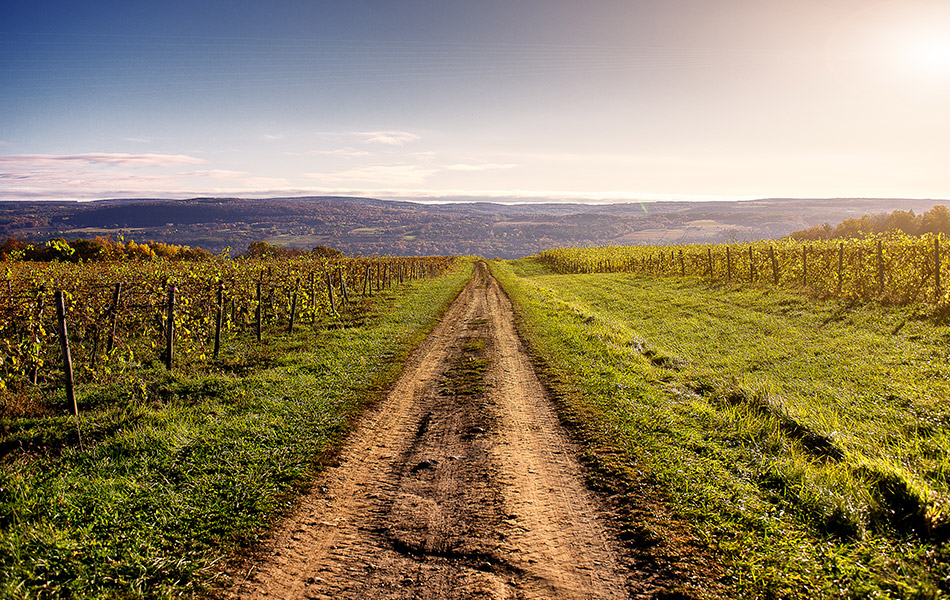 Vineyard Hike & Tasting
Enjoy a walk through our vineyards guided by one of our engaging winery team members. Your guide will introduce the varieties as you pass the vineyards and pour a selection of wines from the vines you will meet along the way.
You will take a short break to taste one sample in the vineyard gazebo and then stroll back up to the winery enjoying additional wines along the way.
Please wear shoes in which you are comfortable walking on uneven ground. Total distance is .6 miles (1 km), and duration is approximately 60 minutes.
Perfect for:
Groups of 2-12 people
Cost:
$20 per person, $15 for Rose Guild members
Closed for the Season
Please check back in the spring!
Available (beginning April 19, 2023):
Wednesday, Friday & Saturday: 11:00am

Our Stewards
---
Our wine stewards are informed, educated and experienced.
Their goal isn't to impress you with their vast learning, though; it's to provide the knowledge that allows you to fully appreciate the quality of our wines. And to be eager and able to answer whatever questions you have.
Kevin Barnes

Kathleen Dafoe

Monica Fredell

Vicki Gardner

Tami Grawunder

Kathe Hayes

Anisha Hendrickson

Terence Lane

Michele Smith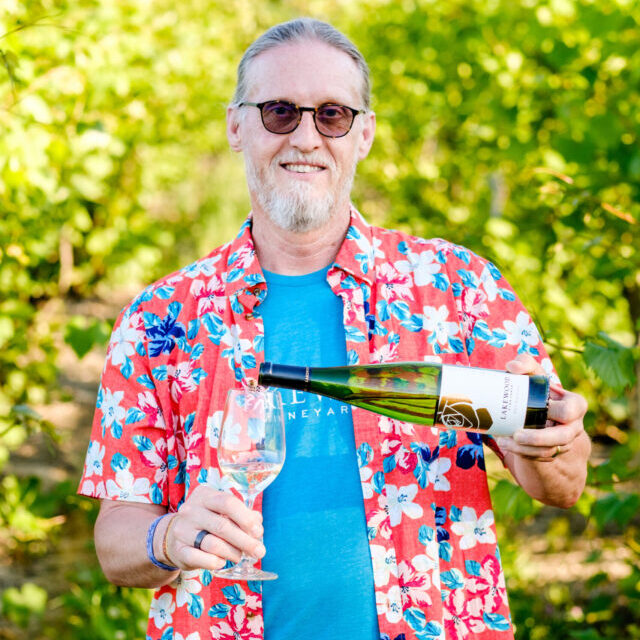 Kevin Barnes
A fun loving guy, Kevin has a daily pun ready for the Lakewood team. Kevin likes to pair his love of dry wine with his dry sense of humor. He can be spotted easily because he will be the one wearing a tie dye shirt or one of his many Hawaiian shirts.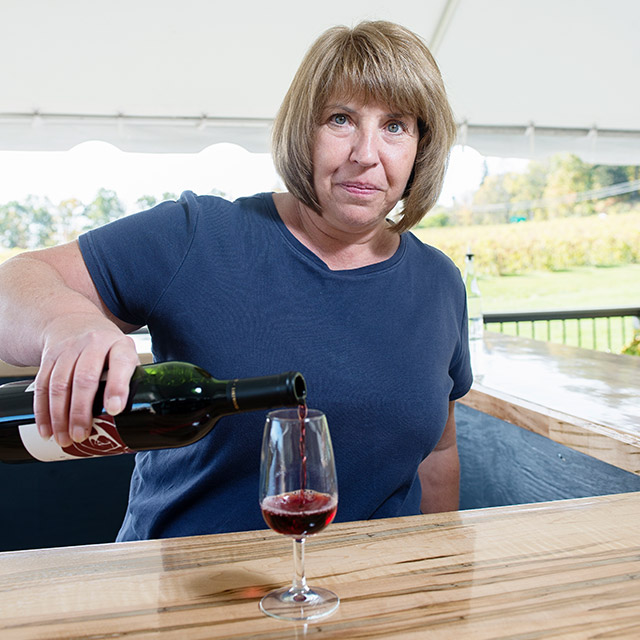 Kathleen Dafoe
Kathleen is a seasoned veteran of the Seneca Lake Wine Trail with more than a decade of local wine knowledge and wit to share. She is a big fan of our Cabernet Franc and if you are lucky she might share some amazing recipes she makes and enjoys with our Chardonnay.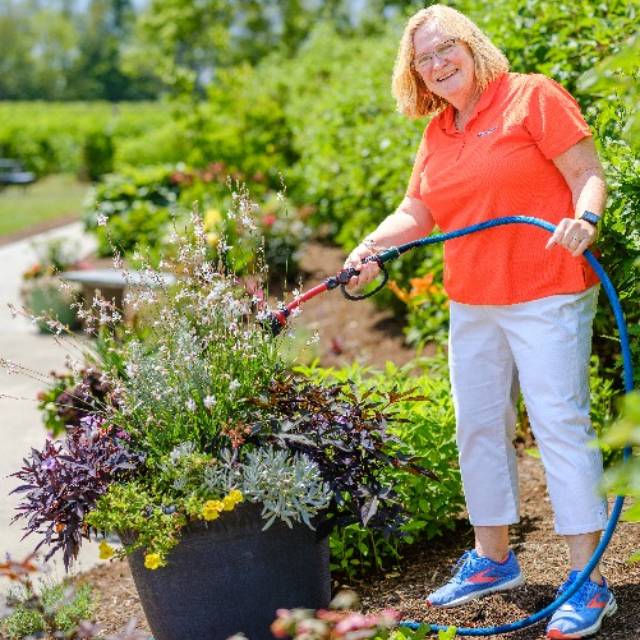 Monica Fredell
A native of the midwest, Monica brings a great combination of knowledge and an adventurous spirit to the Lakewood team. Outside of work she is an avid gardener, beekeeper, and runner. She also enjoys walks with her dogs, and the amazing meals her husband Jim prepares.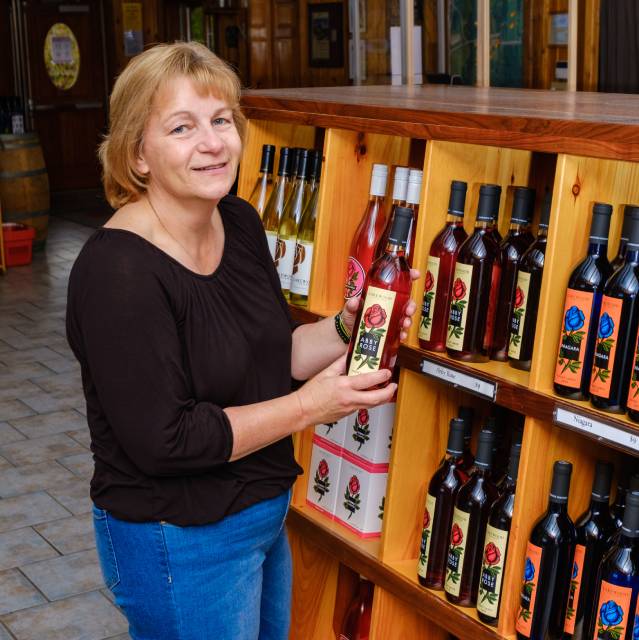 Vicki Gardner
Vicki grew-up in Schuyler County but lived away for many years while her husband Russell was serving in the military. Upon returning to the area, Vicki worked for a local garden center until she made a change and joined the team at Lakewood. Her gentle demeanor will make your tasting experience relaxing and enjoyable.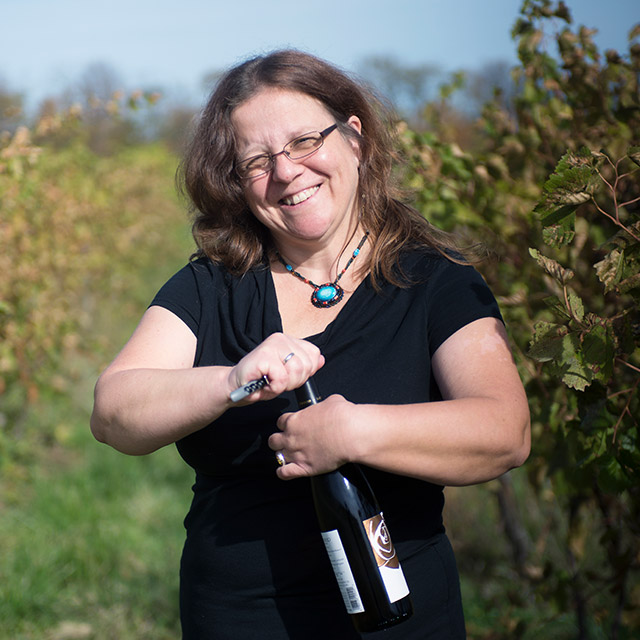 Tami Grawunder
A Finger Lakes native, Tami found her calling 28 years ago in the wine industry. She enjoys talking to guests about Lakewood Vineyards wines and the ever-growing wine region she calls home. Visitors from Germany are pleased to find that Tami is bi-lingual, and visitors from everywhere find her generous and helpful.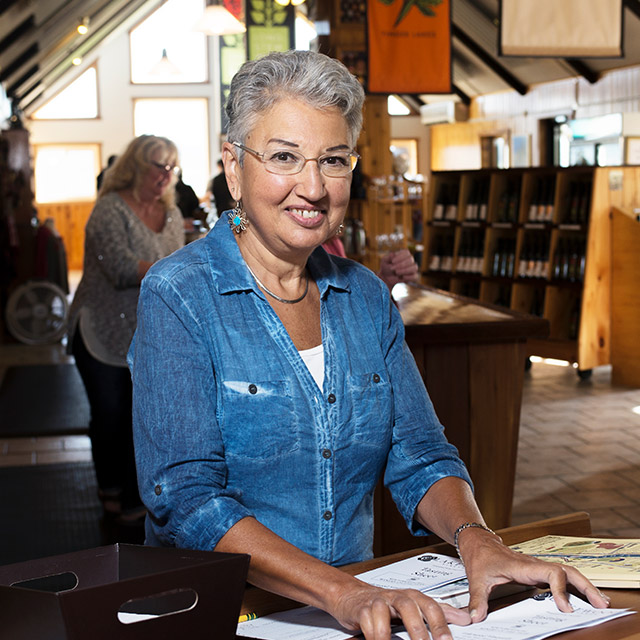 Kathe Hayes
After retiring from a career in mental health, it seemed only logical for Kathe to continue to help people with their outlook on life. But now she does it by offering great wine for tasting. Kathe has enjoyed Lakewood wine since the winery began, so being in the tasting room is an exciting marriage of her two interests.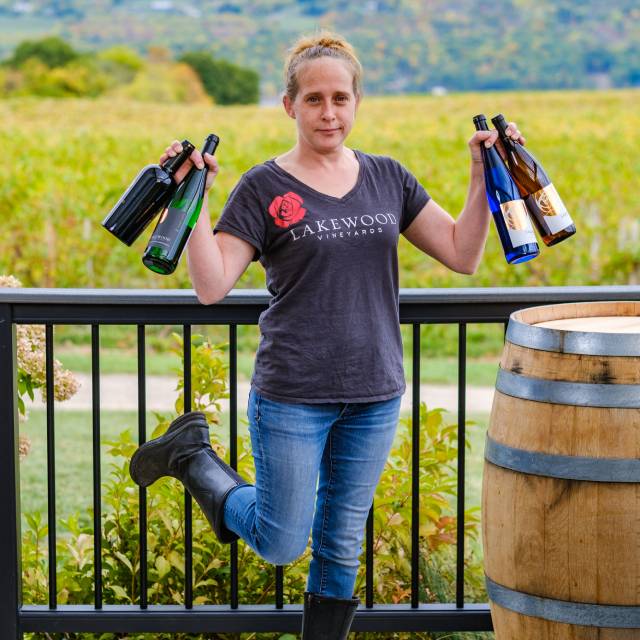 Anisha Hendrickson
Anisha is the light of Lakewood that never goes out. Her energy and zeal delight both guests and staff. When not at work, Anisha enjoys spending time with her husband, Chad; sons, Isaac and Elliot; and their two dogs.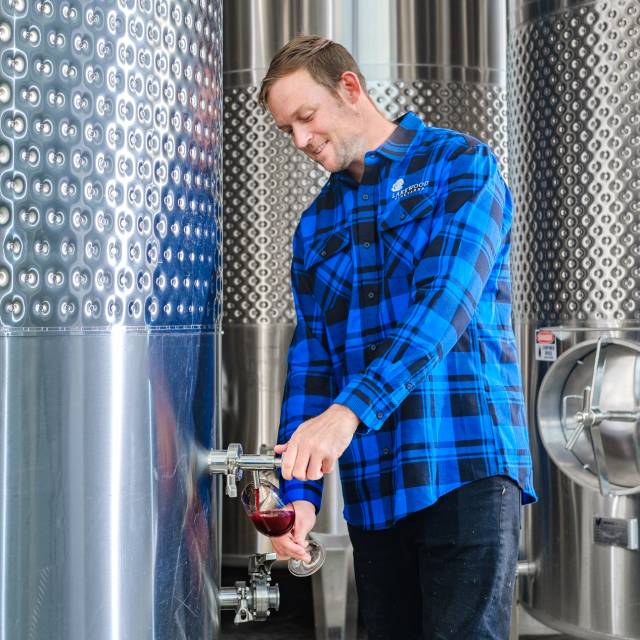 Terence Lane
Terence came to the Finger Lakes following the pandemic closure of New York City's dining scene where he worked as a Sommelier. His extensive restaurant experience makes him a go-to for wine and food pairing suggestions. He enjoys exploring the natural wonders and wines of the region.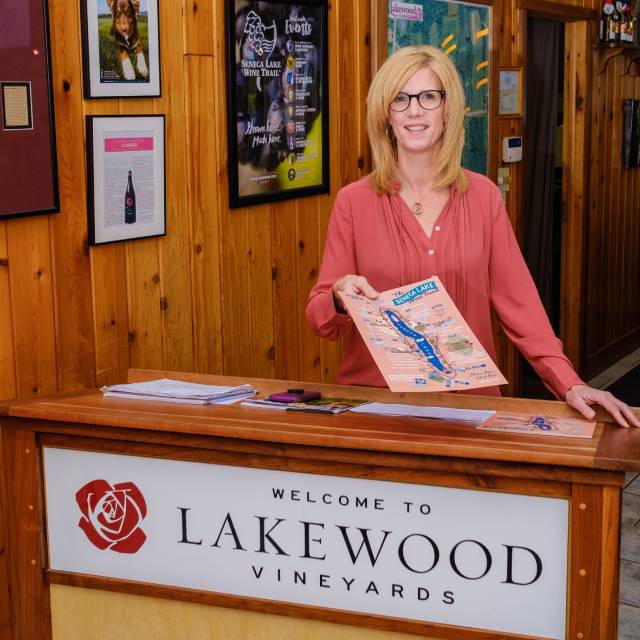 Michele Smith
Michele grew up next door to Lakewood Farm and is a lifelong friend of the Stamp family. After returning to the area in 2019, Michele shares her talents with Lakewood, where her local knowledge and approachable, friendly, demeanor make it seem as if she has always been here.

Our Lakewood Alumni
---
These familiar faces at Lakewood Vineyards have moved-on to other adventures. While we miss them, we know they are doing great things in their new endeavors.
Sage Garrison

David Hertel

Emma Knapp

Chris Stephany

Norrie Cornelius

John Damain

Kennedy Heichel

Mary Beth Hollenbeck

Jordan Knapp

Lynnette Lenzer

Vicky Shaban

Jaclyn Symiakakis

Kelly VanScoyk

Abbey Welker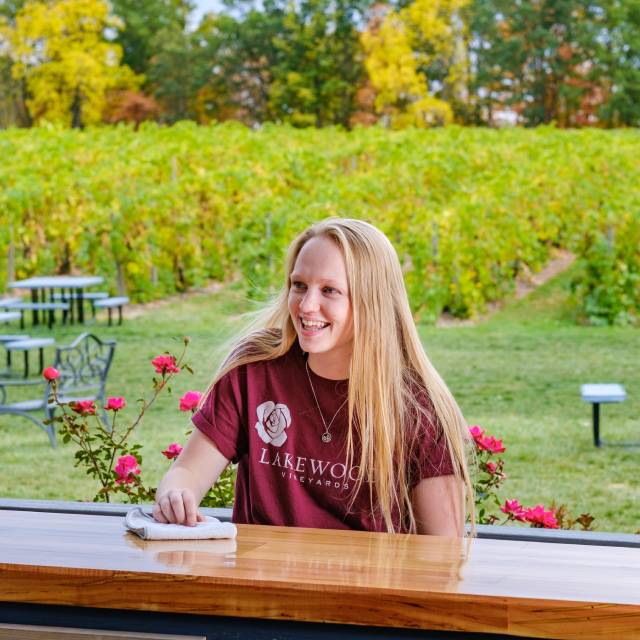 Sage Garrison
One of the newest members of the Lakewood Vineyards team, Sage joined us seamlessly. She is quick to laugh, willing to try anything, and happy to share her ever-expanding knowledge of wine. Growing-up nearby, Sage is a great source of local information and "little known" waterfall locations.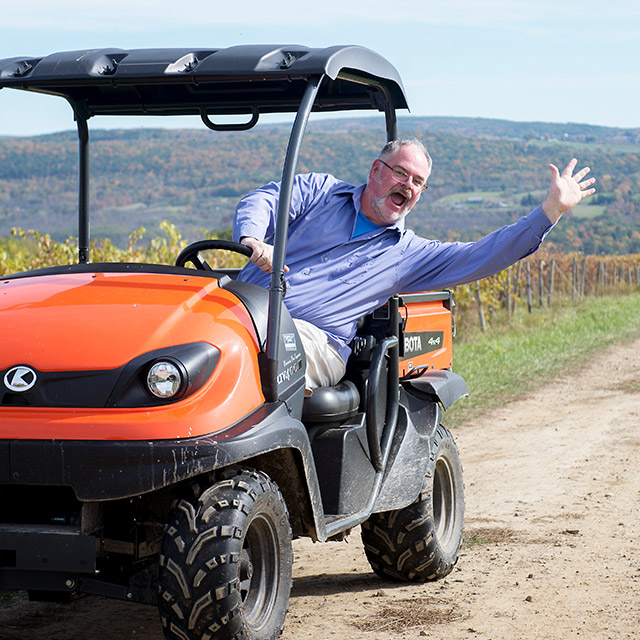 David Hertel
A successful bed and breakfast owner, David came to Lakewood to learn about Finger Lakes wines and to share his enthusiasm for the region's many assets with wine tasters. He spoils the Lakewood crew with his baked goodies and shows sincere interest in knowing about visitors' plans and adventures during their Finger Lakes sojourns, helping them make the most out of their Finger Lakes wine tours & tastings.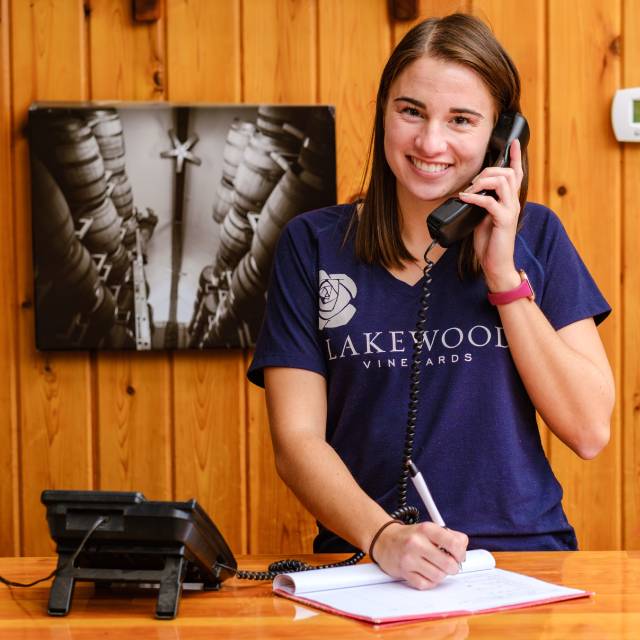 Emma Knapp
Though Emma had been coming to work with her Mom, Teresa, since she was an infant, she officially began working at Lakewood in the summers while attending Hartwick College. Though she seems like a gentle soul, Emma was a powerhouse on the lacrosse field while at Hartwick. She came back to join the Lakewood family when she graduated. In addition to working in the tasting room, Emma also assists with shipping and media activities for Lakewood Vineyards.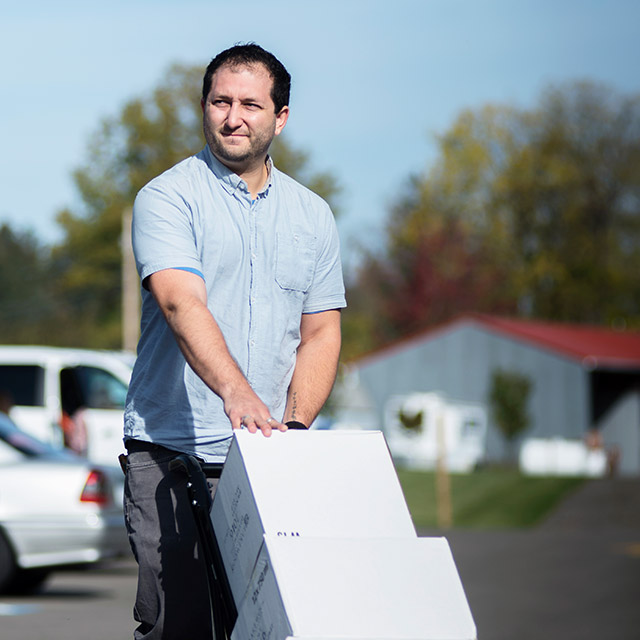 Chris Stephany
Whether it's surf boards or Finger Lakes wine, Chris's passion for the past few years has been helping people find the "right fit" for them. He dives in wherever he is needed; in addition to pouring wine he's also worked in the cellar and helped pick grapes. He calls Watkins Glen home.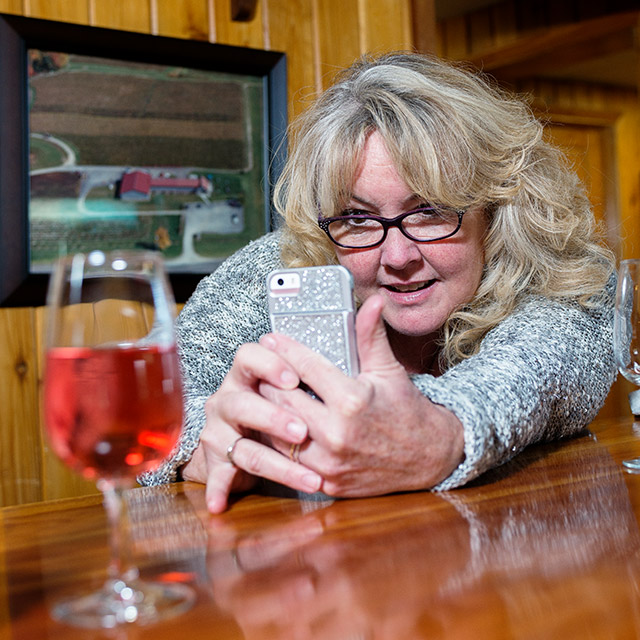 Norrie Cornelius
Norrie (a.k.a. the "Wine Wench") had been part of Lakewood Vineyards since 1998. Her love of people, storytelling, and our wines made all of our visitors' tastings a pleasure. After meeting Norrie, you felt like you'de made a new friend.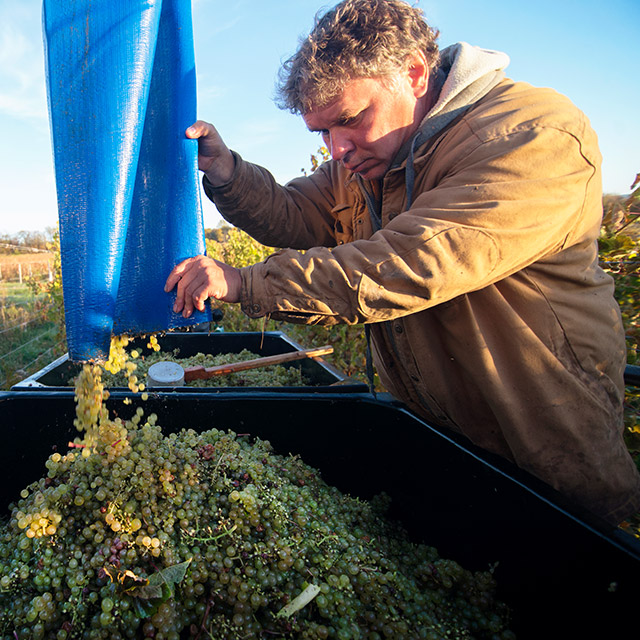 John Damain
John came to Lakewood Vineyards in 1996. With prior experience working in a restaurant with an extensive wine selection, he had gained a great knowledge of wines but had never experienced wine production. At Lakewood, he asked if he could work harvest. After 15 years on our winemaking team, John transitioned to vineyard work and after several years working on the farm, he has retired. He now has more time to pursue his passion for fishing.
Kennedy Heichel
High school valedictorian and collegiate pole vaulter, Kennedy dived right in when she joined the Lakewood team. Now finishing her education, she still stops in to see us from time to time.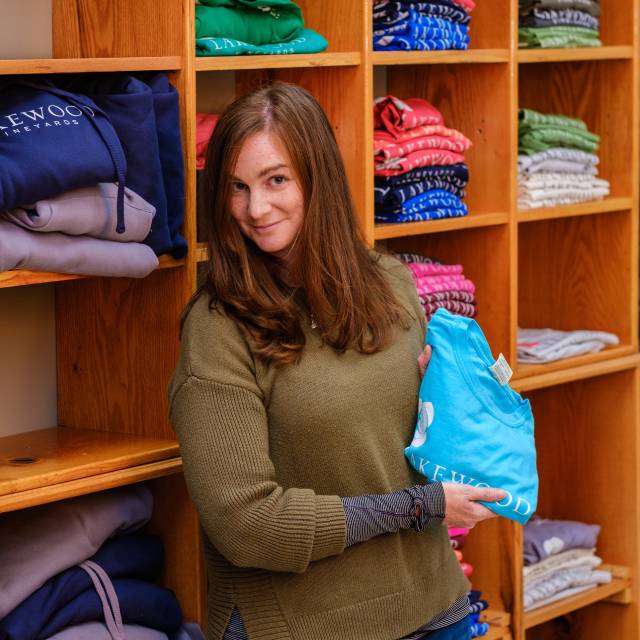 Mary Beth Hollenbeck
Ready with warm smile and laugh, Mary Beth joined the Lakewood team with experience in wedding and event planning and the tourism industry. She is an outspoken and knowledgeable advocate for the Finger Lakes and was always ready to help people find Lakewood wines they love and an experience in the area that would be long remembered. When not working, Mary Beth enjoyed exploring the area with her husband, Eric, and dog, Bayla.
Jordan Knapp
Jordan started coming to Lakewood as an infant with her mother, Teresa, and officially began working when she was old enough to serve wine to Lakewood's guests. Her years growing up at Lakewood added an interesting perspective when she entertained tasters. A graduate from Nazareth College, Jordan helped with social media activities and worked in the tasting room.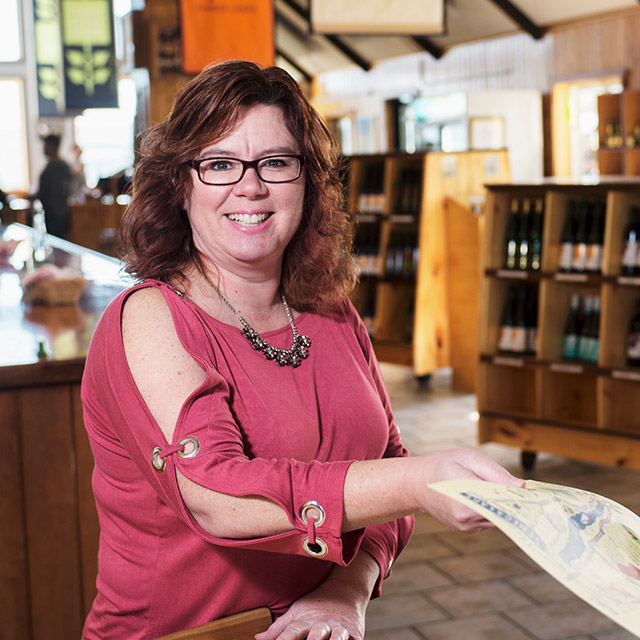 Lynnette Lenzer
Quick with a smile and willing to help anywhere she was needed, Lynnette was brave enough to be our greeter on busy fall Saturdays. She enjoyed pouring Lakewood wines and was often heard laughing with guests as they shared their wine experiences with her … and sometimes even their dance moves.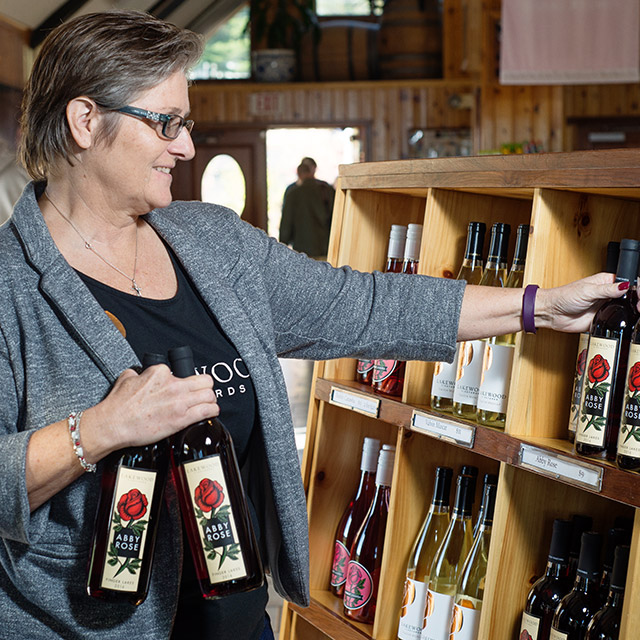 Vicky Shaban
Vicky came to Lakewood by way of a road sign and was a welcome addition to the tasting room crew. We were lucky she found Lakewood, and lucky she deemed it the right place to share her wine knowledge. Her gentle demeanor and pleasant presentation made guests want to linger over their flights of wines.
Jaclyn Symiakakis
A harvest intern, Jaclyn came to Lakewood with lots of experience selling wine, and a keen interest in making it. Jaclyn has moved on to another adventure that has her living closer to her New England based family.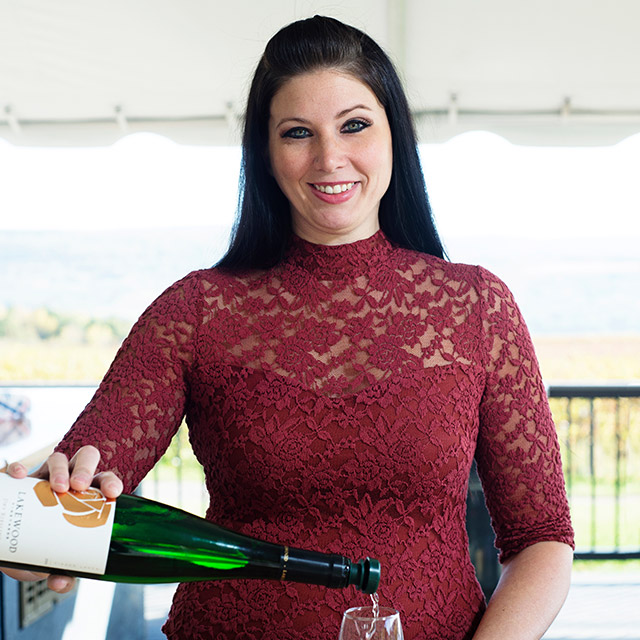 Kelly VanScoyk
This vivacious mom of four shared her talents between Lakewood Vineyards and a neighboring winery. Even though she was new to our crew, she fit right in and quickly became a familiar face at our tasting bar.
Abbey Welker
After a short stint at Lakewood Abbey returned to Syracuse University. We miss her warm smile and inquisitive nature.

Partners & Marketeers
---
Guests are likely to see any of these people when visiting Lakewood Vineyards. One of them might even pour you a flight of wines. Most of the time this crew is working in the background, tending to many behind-the-scenes aspects of the winery business: paying bills, promoting off-premise sales, preparing payroll, setting the work schedule, shipping wine, stocking the shelves, submitting labels for approval, and countless other operational and management tasks.
The partners and marketeers are all related by blood or winery ownership—or both—but primarily by a passion for making Lakewood Vineyards a premier winery delivering delicious wines, memorable experiences, and second-to-none Finger Lakes wine tours.
Recent Winery Awards
A wine is as enjoyable as your experience tasting it.
Or contact us for more information about our Finger Lakes wine tours.