Exceptional Wines Since 1988
---
Always respectful of our roots in Finger Lakes grape growing, we use tradition and technology to produce consistently fruitful vineyards, delicious wines & provide an outstanding tasting experience.
Our History
In 1951, the Stamp family moved to Lakewood Farm, a run-down peach and apple orchard on the west side of Seneca Lake. The next spring, they started planting grapes. The original grapes were those favored by the large wineries and grape juice companies. In the mid-80's the family diversified to add some new varieties, with the hope of someday using them to make their own wines.
In 1988, Monty and Beverly Stamp and their children pressed the grapes for their first vintage.
A Vision Realized
Lakewood Vineyards Winery opened to the public in June 1989 with 7 varieties of wine, made from estate-grown grapes from their 45 acres of Finger Lakes vineyards.
Today, with 100 acres of vineyards and 3 Stamp family generations working together, the winery produces a diverse selection of wines. Their dedicated and talented team prides themselves on offering Finger Lakes wines of exceptional quality and value.
Remembering Monty
"Salt of the earth" is a phrase Monty Stamp epitomized throughout his life. He was committed to his family, his farm, his community, and the greater grape-growing community.
In 1958, when Monty was 23, he won the National Contour Plowing Competition. A photo of Monty and his new bride Beverly, taken just after his win, was picked-up by the AP—and Monty became a local hero.
Monty showed leadership & commitment in the industry.
He was a founding member of the New York State Wine Grape Growers and served as an officer for that organization as well as the Wine Grape Growers of America for many years. He was also a firefighter and chief of the Watkins Glen Fire Department, and Supervisor of the Town of Reading, where Lakewood Farm is located.
Upon its founding in 1988, Monty made certain Lakewood Vineyards was involved in Wine America, the New York Wine and Grape Foundation, and the Seneca Lake Wine Trail. His spirit of cooperation and participation is still a hallmark of Lakewood and is being continued by the Stamp family.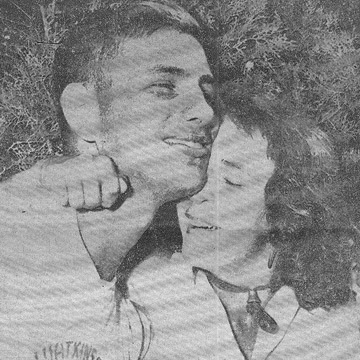 Growing Grapes
Lakewood Farm is located on the west side of Seneca Lake, with east-facing slopes gently leading down to the shores. Owned and operated by the Stamp family since 1951, the vineyard's first grapes were sold to Welch's Grape Juice Company in 1955. As the economic climate for small commercial grape producers became challenging, the Stamps took the next step and began producing and selling wine made from their grapes.
As the wines produced at Lakewood Vineyards gained recognition, so did the acreage in grapes increase—from 45 in 1988 to 80 in production today, with 10 newly planted. Lakewood Farm is still the main source of grapes for Lakewood Vineyards wines and supplies 15 varieties.
Looking Forward
The vineyard crew practices careful management of the vines and land, with a focus on sustainable practices, including composting, mulching and use of cover crops.
Our Vineyardists
---
Exceptional wines start with exceptional grapes.
The 100 acres of Finger Lakes vineyards that Lakewood Farm cultivates surround the winery in every direction. Using traditional vineyard practices as well as new techniques, we optimize the potential of each variety and deliver beautiful grapes to the press deck each harvest.
Tracy Gumtow

Dave Stamp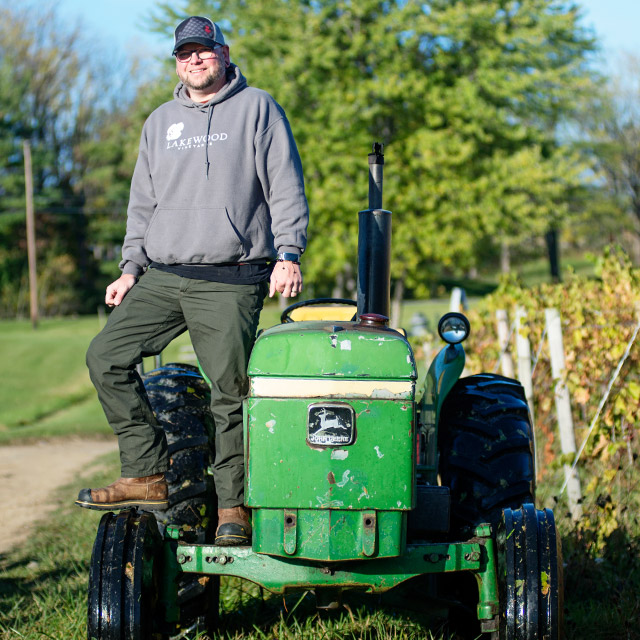 Tracy Gumtow
Tracy wears many hats at Lakewood. On weekdays, he may be spotted driving a tractor in the vineyard or sanding woodwork in the shop. He spends part of his time in the tasting room and has a loyal following, even performing weddings for several friends he met at Lakewood.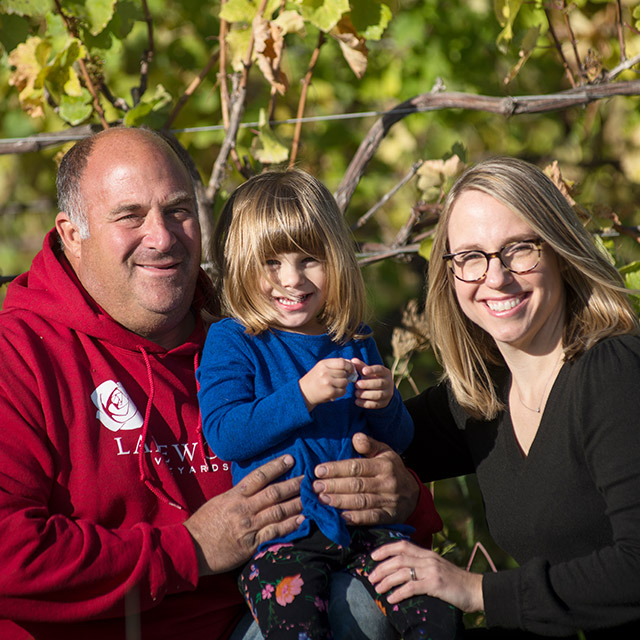 Dave Stamp
Vineyard Manager Dave Stamp began working at Lakewood shortly after he began to walk, and he quickly realized he had the aptitude and desire for life as a farmer. After college, Dave returned to work with his father, gradually expanding the acreage and selection as the winery's need for grapes swelled.
Today, Lakewood Farm includes 80 acres of grapes from 15 varieties, including Riesling, Gewurztraminer, Cabernet Franc and Pinot Noir. The high-quality fruit from Lakewood has produced numerous award-winning wines. Recognized as a leader in the industry, Dave has often been cited in such national, regional and local publications as The Wall Street Journal, Wine Country Magazine and the Democrat and Chronicle.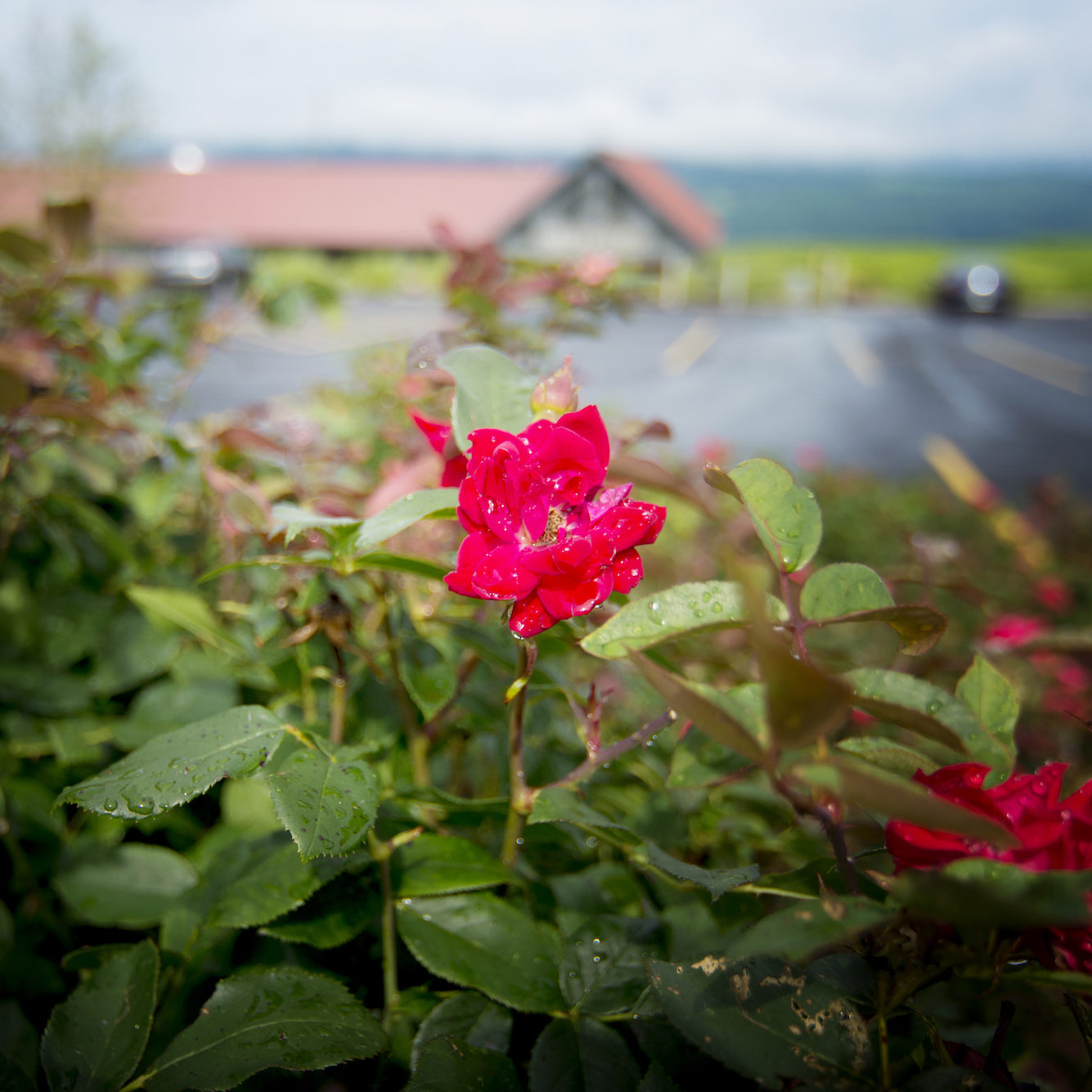 Why a Rose?
In 1965, when First Lady, Lady Bird Johnson initiated her program to beautify our nation's roadsides, Frank and Lucy Stamp contributed to the effort by planting a row of roses along Route 14, above the field that now is home to Lakewood Vineyards.
In 1974, with the roses in full bloom, Lucy Stamp sent a letter and photographs to Lady Bird Johnson. Imagine their delight when Frank and Lucy received a response from the First Lady, commending the Stamps for their "contribution to a more beautiful America."
The roses were a local landmark and an obvious choice for the Lakewood Vineyards logo. Each of our wines features a rose on the label.
Making Wine
Lakewood Vineyards was the realization of a long held dream of the Stamp family. As they worked in the Finger Lakes vineyards while growing up, the kids talked about someday making wine from the grapes they tended. That someday was the maiden vintage, 1988. Monty, Bev, and their adult children were determined to save the farm by making wine from the grapes they produced.
The first 7 tanks held 4500 gallons, each filled with a different variety, the entirety of their production that year. Now entering the 30th vintage, Lakewood has 67 tanks of varying sizes, 218 barrels and lots of shiny winemaking equipment.
Future Growth
While investing in expanding the wine production facility and equipment has been an ongoing priority, the most important part of Lakewood's growth has been building a family business that the next generations can continue. Three generations of the Stamp family currently work together to make exceptional wines and deliver an outstanding experience for visitors at the winery.
Our Vintners
---
Our vintners are the craftsman who guide the grapes through the evolution from berry to wine.
A head winemaker with more than 30 vintages under his belt and the energy of 2 trained millennials make an ideal balance in the cellar. Their combined aptitudes of creativity, innovation and experience guarantee exceptional Lakewood wines every year.
Chris Stamp

Christian Russell

Abby Stamp

Benjamin Stamp
Chris Stamp
Chris had his first taste of winemaking watching a neighbor make wine. Thus began his fascination with fermentation. He attended Cornell where he got a Bachelor's degree in Food Science in 1983, and was immediately hired to make wine for Plane's Cayuga Vineyards, one of the pioneer wineries on Cayuga Lake.
In 1986, Chris took a position as a research and extension associate for the wine industry in Ohio, where he worked until Lakewood Vineyards opened. He returned to Watkins Glen, and the family farm, and has been winemaker for every one of Lakewood's vintages.
Chris uses traditional practices, such as barrel fermentation and aging, as well as new technology to make consistently exceptional wines. His familiarity with the grapes (some of which he worked while growing up on the farm) aids in his quest to make the best wines possible every vintage.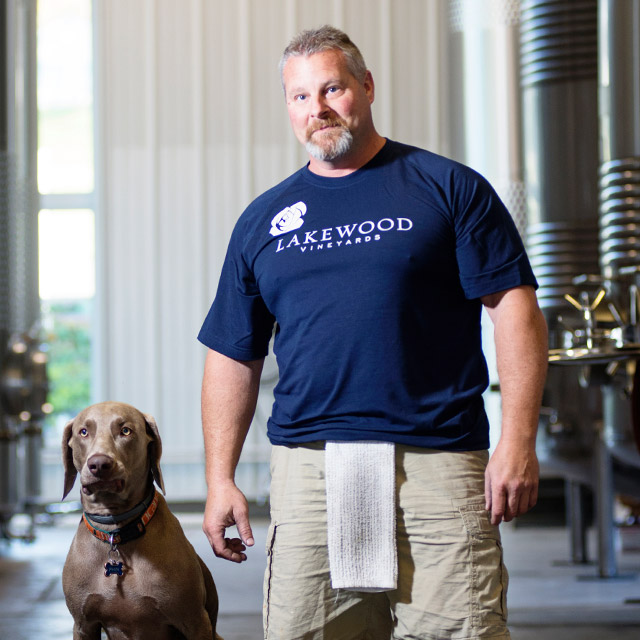 Christian Russell
Cellar master Chris Russell studied marine biology at the University of Miami before finding himself drawn back to the Finger Lakes, where he was born. When he's not sailing his 41-foot boat, Chris can be found in the cellar helping to make Lakewood's exceptional wines.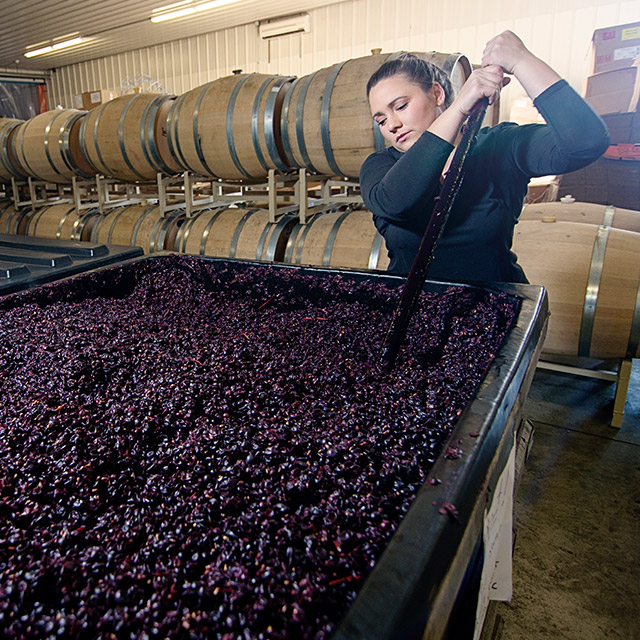 Abby Stamp
Abby grew up playing and even working at Lakewood. She initially thought she would pursue a career in medicine … but she transferred into the enology program at Cornell, and graduated in 2012. Abby worked harvest in New Zealand and two in Oregon. She now works with Chris and Ben crafting delicious Lakewood wines.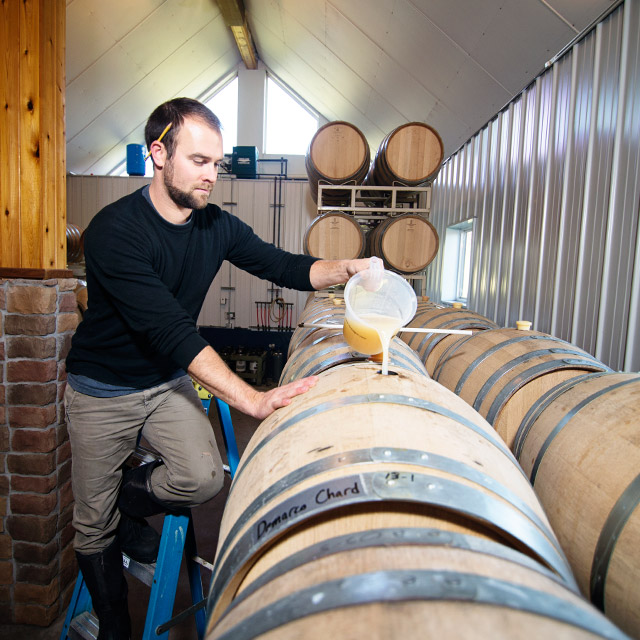 Benjamin Stamp
Ben was 3 weeks old when Lakewood Vineyards opened its doors to the public in 1989. He slept through the whole thing. After graduating from Cornell with his degree in enology, Ben travelled extensively and worked 5 harvests in other areas before returning to work alongside his family at Lakewood.
Discover the fruits of our labor.
Our Partners
---