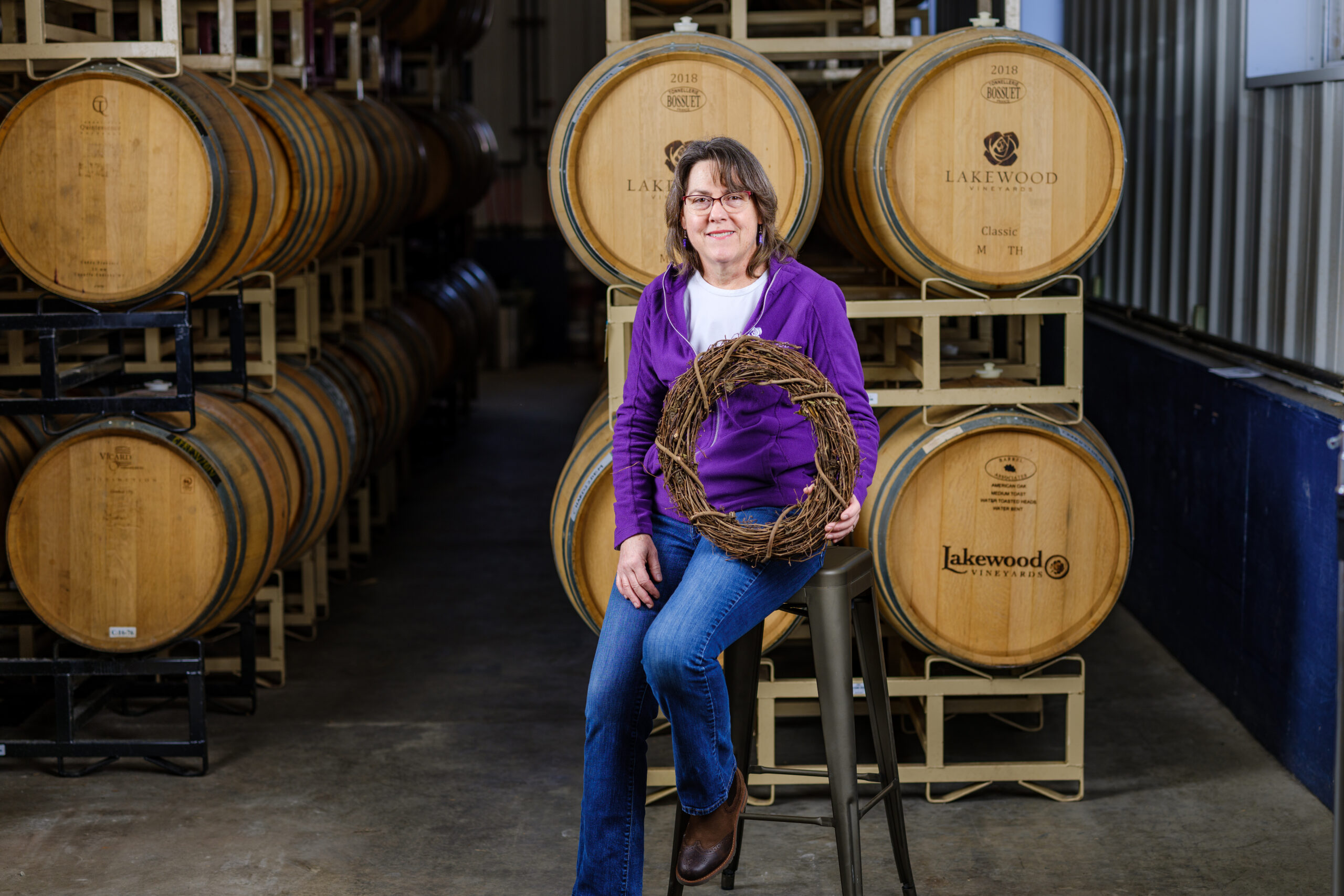 Seneca Lake Wine Trail's Deck the Halls celebrates its 30th Anniversary this year.
The ever-popular event launched in 1992 but paused for two years during the COVID pandemic. Today, the original concept remains intact: guests purchase a passport ticket which includes food and wine pairings at multiple wine trail wineries, all decorated for the holidays. Also included in the ticket price are a grapevine wreath, a collectable ornament at each stop and a printed recipe book. In 2023, a couple's ticket is $130 with 19 participating wineries. The event runs two weekends (November 17-19 and December 1-3), and always sells out.
How did Deck The Halls become the powerhouse event it is today? Liz Stamp of Lakewood Vineyards, who is credited with originating the idea, tells us the story.
Q: How did the idea of Deck The Halls come to you?
Liz: The wineries started doing events and I thought, this could be a great way to invite people to all of the wineries on the trail. And traffic was so slow in the winter months. At the time, Monty Stamp [Liz's late father-in-law] was selling grapevine wreaths for extra money, so the idea came of giving a wreath to guests and then unique ornaments at each winery. It was important to have something to collect at each stop.
Q: Describe the first year of Deck The Halls.
Liz: It was 1992 and it was the fourth event the [Seneca Lake Wine] Trail had ever done. We advertised with flyers and radio ads, and then the phone started ringing. Tickets were only available at the door and we did not offer pre-sale at the time. We were hoping for 120 guests but when the phone started ringing we planned for 300. When we opened Saturday morning, people started pouring in and we knew we were going to run out of everything. Lots of people didn't get the ornament, and we did the best we could with food. We saw over 700 people. We ended up writing down guests' names on a lined notebook so we could make good on the ornaments.
Q: What do you see for the future of Deck The Halls?
Liz: Make it a festive event and not make it too rushed or crowded. COVID helped us re-evaluate the ticket numbers per weekend. We want to make sure that we are delivering quality and connection with guests. For lots of people, it is their first time here and we want them to return.
Q: What is your advice for someone who is attending Deck The Halls for the first time?
Liz: Try to take advantage of the whole weekend, Friday through Sunday. Don't rush. There's time to visit all of the wineries. If you visit a space and it is crowded, skip it and come back later when it isn't as crowded. Most importantly, enjoy it.